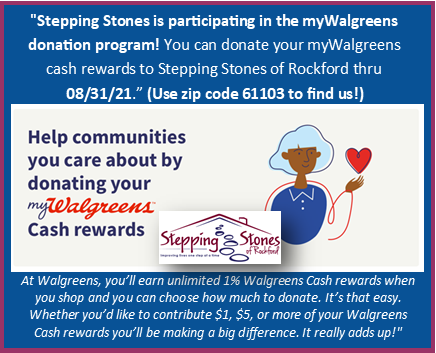 Amazon: Who doesn't love a little on-line shopping? If you're looking for a tangible way to make a difference in the lives of clients at Stepping Stones, look no further! Check out the Stepping Stones of Rockford Amazon Wish List.
Target: Our group homes could use a bit of help. Why not do a little shopping at Target to help brighten the day of our residents! Take a gander at the Stepping Stones of Rockford registry/wish list at Target.
https://www.target.com/gift-registry/giftgiver?registryId=b1f32a72013047ccb109b77621826b32
Rather do your own shopping? Here our "general" wish list:
ACTIVITIES: Coolers (picnic sized); Baseball Mitts, Bats, 12 and 14-inch Softballs; Outdoor Basketballs; Yoga Mats; Footballs; Puzzles.
ELECTRONICS: Laptops; iPads; Chromebooks; X-box/Nintendo/gaming systems (new with games); flat screen TVs; Sound systems (radio, DVD player, sound bar; computer speakers).
HOUSEKEEPING: Swiffer Jet Mops and accessories; Vacuum Cleaners; Mops; Brooms; Dustpans; scrub brushes; Scrub Daddies; Garbage bags (13, 20 and 33 gallon sizes).
THERAPY: Adult Coloring Books; Colored Pencils; Journals, Spiral Notebooks; Markers; Canvas; Art Paper; Construction Paper; sketch pads; paint brushes, acrylic paint; watercolors; Glue/Gluesticks; Play-Doh; Self-hardening clay.
KITCHEN: Can openers (electric and hand); Coffee Makers (8-12 cups); George Foreman Grill; Pots and pans; Microwave; Silverware sets; Plates and Bowls; Toaster.
CLIENT ROOMS: Alarm Clock Radios; Pillows; Towels (bath); bed sets (twin and full); comforters; mattress covers.
If you'd like to make a donation of items listed above, please email This email address is being protected from spambots. You need JavaScript enabled to view it. and we'll make arrangements. Thank you!